A reminder about My Little Linen Book
I am sure that many of you are already familiar with the gorgeous Little Linen Book made for me by Kate Bowles but I found these images this morning and just had to share them with you. Joy Moran, a long time Cross Stitch Guild member has stitched and decorated many of these and I thought you would like to see some pictures. Kate's books are hand made and you can see the decorative binding from the picture below. Do have a look at her Blogspot when you get a minute!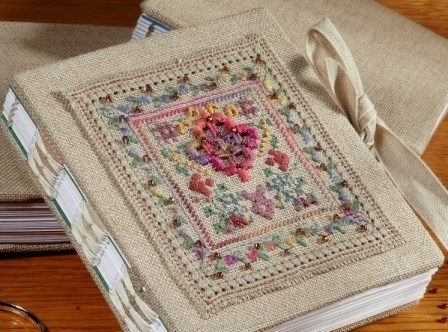 Our Little Linen Book with a stitched vignette
All of the examples below are from one of Joy's versions……
The Little Linen Books are still available from www.thecrossstitchguild.com – We would love to see what you do with your copy!
Date posted: Friday, March 10, 2017