We are working with lavender today – Just lovely!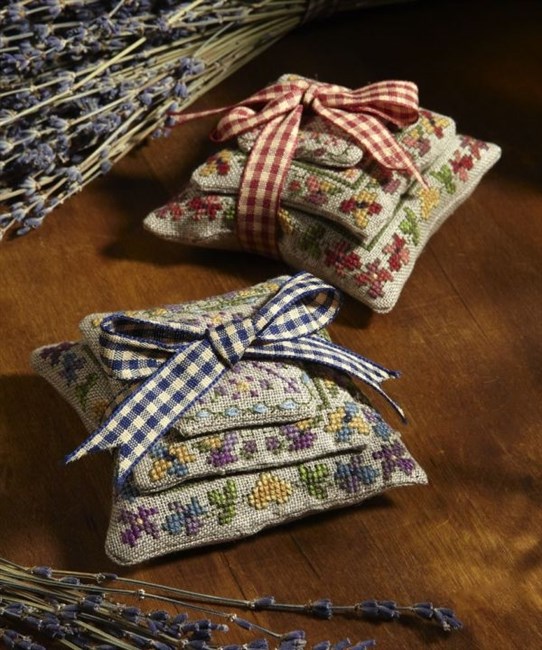 Lavender Tumbles
These dear little scented kits were the brain child of Sarah, my PA who seems to think of something new every day! Ho Hum! Not always relaxing! Lavender Tumbles are worked on unbleached linen in pure cross stitch and then stuffed with the lavender flower petals. You can display them as shown in the picture above or split them up and scent drawers or  cupboards. Today we have been packing the kits and that includes the lavender petals which is a bit sneezy to start with but nice all the same. You can find Lavender Tumbles in the CSG Shop. This all goes on in the Studio at the back of Pinks Barn. We were so lucky to find this house when we did, little knowing how hard it would have to work. It is one of the best kept secrets in the village as you really cannot get a view of all of it from anywhere and no-one has any idea of what is going on!
Snowshill Lavender
I thought you would like to see a picture of where we buy our lavender petals used in our Lavender Tumbles – These pictures were taken last year when Bill and I had a day out in Gloucestershire and I was let loose with my camera. Snowshill Lavender is a special place to visit with a pretty gift shop and lovely views over the lavender fields. There are a wide variety of different strains of the plants on show and you can walk amongst the flowers just listening to the bees and the occasional skylark!
I was sitting on the ground to get this picture
One of the next projects on the drawing board  (well, alright the computer) will be some linen things scented with old rose petals – this I am still cooking! After the Knitting and Stitching Show, I spent a couple of days in a blur, trying to put everything away, send out parcels and prepare for photography tomorrow- Today has been much better – a little designing and a lot of planning. Talking of designing, I thought you would like to add this little motif to your collection – two versions of a lavender motif – very simple but fun! I imagine doing the writing and the flower stems in dark green but please feel free……..
Date posted: Thursday, March 12, 2015